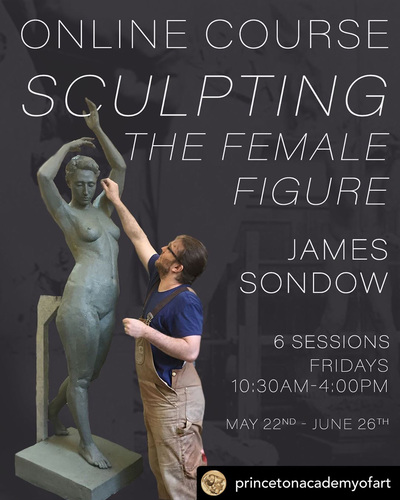 For more information and to sign up click the link below. Once there, scroll down and click
Special Courses
https://www.princetonacademyofart.com/programs/online-courses/
Course: Sculpting the Female Figure with James Sondow.
In this online course students will work from a combination of master works and anatomical reference images along with instructor's live demos to create a 15-inch female figure.
Each class will begin with a lecture to focus students' attention on specific aspects of constructive anatomy in pursuit of large architectonic planes that unify, simplify, and create compositional rhythm to their sculpture.
Students will be guided in proportion, weight, and gesture from the early armature stages through to the application of oil based clay (plasticine). Oil based clay will not harden, dry, or create any dust - perfect for use in home studios.
James studied at the I.E. Repin State Institute of Painting, Sculpture and Architecture in St. Petersburg, Russia.