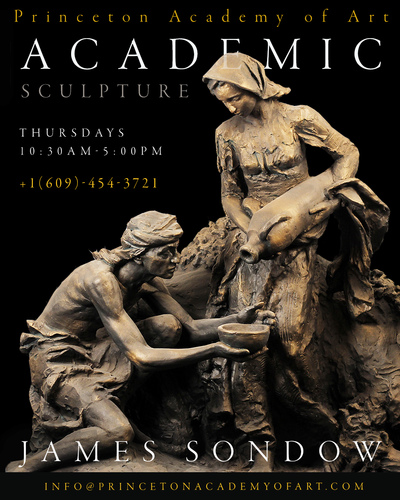 Thursdays 10:30am – 5:00pm
This course will introduce students to the Academic method of conceptualizing and sculpting the human figure, which relies heavily on composition, construction, and the anatomical underpinnings of idealized classicist form from antiquity. This approach is part of a living tradition that has passed down through an unbroken chain of generations since the Russian Academy's inception over 250 years ago.
Working from 3D rotatable images and my cast collection from the Academy, students will be guided to see the form through clear demarcation of planes that integrate the weight and proportion of casts as well as the gesture and likeness of the model. They are pushed past simple silhouettes to think three dimensionally to feel how the various anatomical planes flow together and bind a complex set of distinct anatomical structures into the totality that is sculpture.
Instructor: James Sondow
For more information or to register, please contact info@princetonacademyofart.com